VITA YZ® Zirconia Solutions –
Zirconia. The Shade Must Be Right. Always.
For highly individualized restorations with shade reproduction.
With VITA's YZ Zirconia Solutions, you can expect to:
Includes a complete range of materials with four translucency levels as white, pre-colored and multicolor variety
Efficient and simple processing, including milling parameters perfectly matched to CAD/CAM system partners
Achieve shade reproduction accuracy, matching the VITA classical A1 – D4 shade guide, which sets the shade standard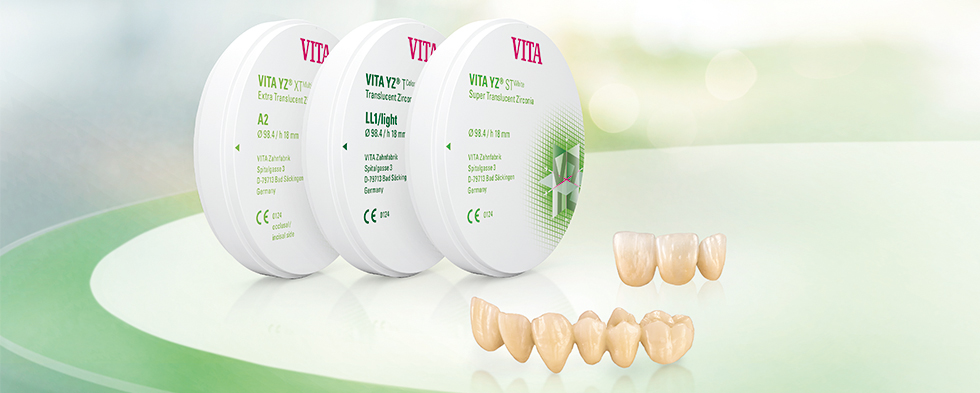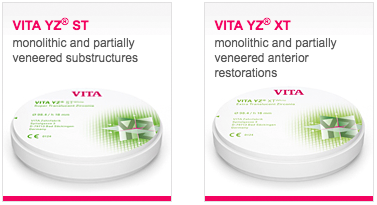 Available in four translucency levels:
VITA YZ® T: Translucent zirconia discs for natural, individual, fully veneered substructures
VITA YZ® HT: Highly Translucent zirconia discs for natural, individual, fully veneered substructures
VITA YZ® ST: Super Translucent zirconia for the fabrication of monolithic and partially veneered posterior tooth restorations
VITA YZ® XT: Extra Translucent zirconia for the production of monolithic and partially veneered anterior tooth restorations
VITA North America helps create the perfect match between dentists and lab technicians, inspiring them to deliver the most esthetic, functional restorations to patients. We accomplish this by providing unparalleled shade technology, quality products and services that help deliver accurate color reproduction with superior clinical and financial results. See us at Lab Day to learn more!
VITA, which pioneered the field of tooth shade determination with the development of the world-renowned VITA classical shade guide and its proprietary VITA SYSTEM 3D-MASTER®, introduces VITA YZ Zirconia Solutions, a coordinated system of discs, shade liquids, porcelain, characterization material and sintering equipment to help you deliver restorations with the most accurate shade reproduction and the highest level of esthetics.
From individually veneered masterpieces to fast, monolithic restorations, the VITA YZ portfolio provides everything you need to manufacture natural, lifelike all-ceramic dental prostheses, quickly and efficiently.