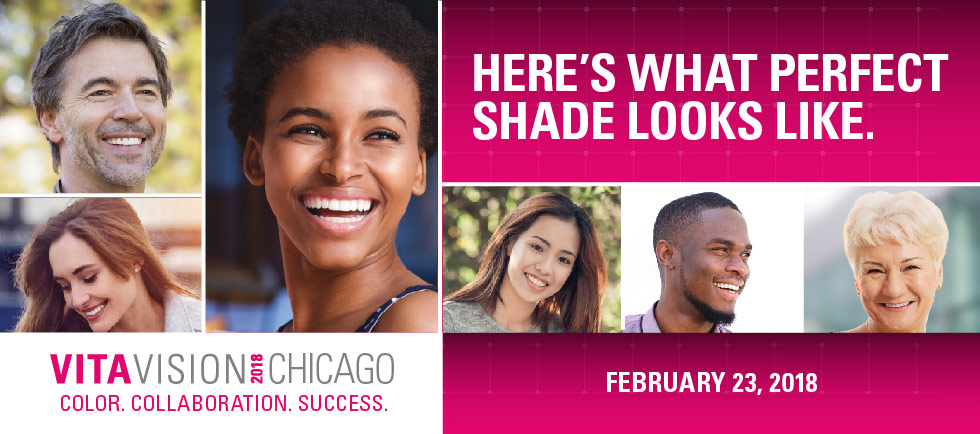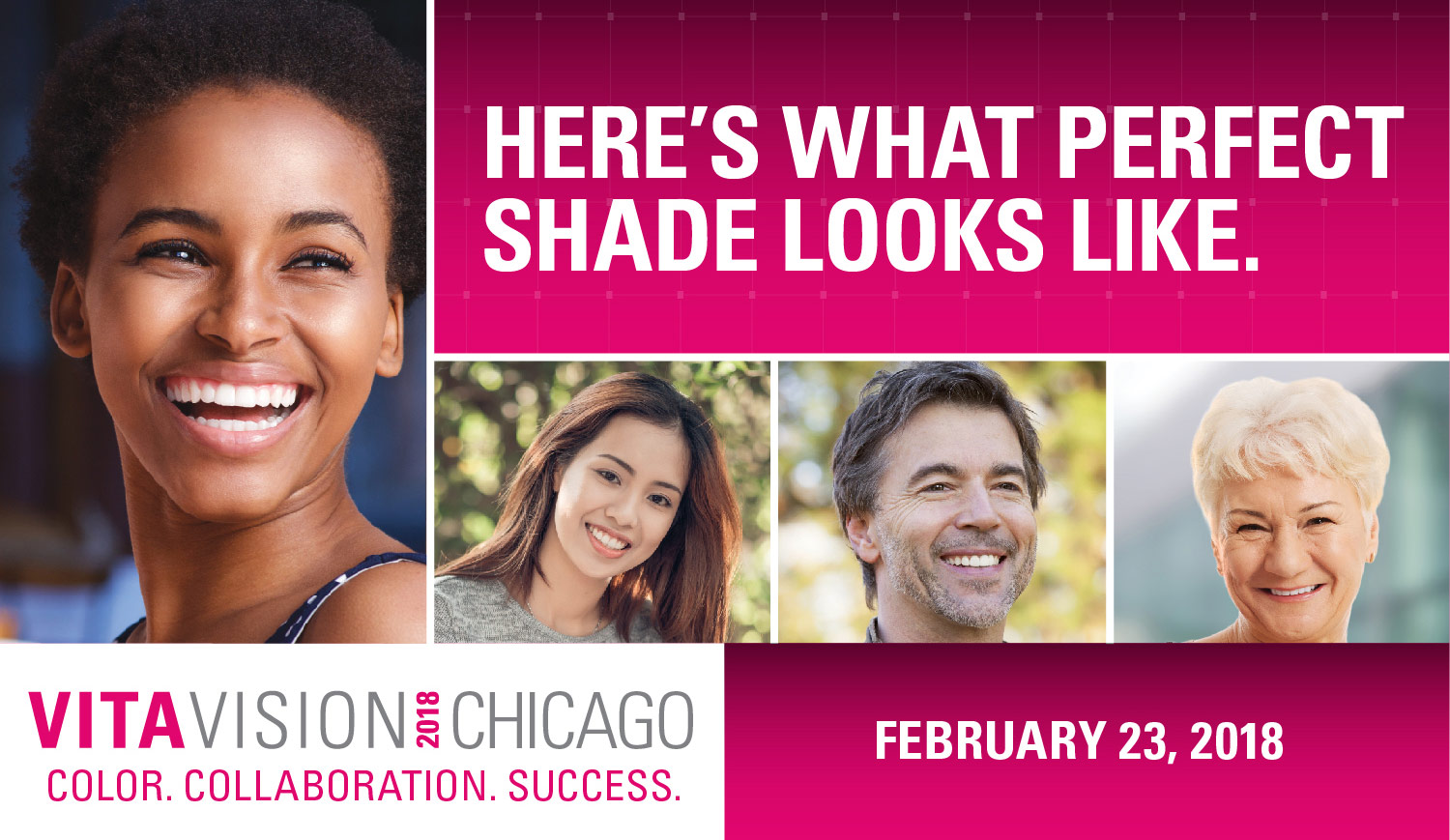 Register for VITAVISION Chicago 2018 where doctors and lab professionals will demonstrate how to leverage color and collaboration for more esthetic and successful results. Whether your workflow is traditional, digital or even same day, you won't want to miss this event. This event is intended for dentists, lab technicians and staff.
FEBRUARY 23, 2018 • 1:30–6 PM • 4 CE CREDITS
450 N. Cityfront Plaza Drive
Gleacher Center #100 • Tiered Classroom
Chicago, IL 60611
REGISTER BY JAN. 5, 2018 AND RECEIVE AN EARLY BIRD DISCOUNT
Early Bird Registration: $79, $119 after Jan. 5th


FEATURED SPEAKERS
Come learn new skills in restoration while connecting with the best and brightest in dentistry.
Clinical Partnerships and the Fusion of "Hand-Crafted" Artistry with Technology
Featuring Stephanie Zeller, DDS, MS and Bobby Williams, CDT
The need for harmonious partnerships between technicians and dentists is more evident now than ever – and the distinct notions of "hand-crafted" and "technology" are not mutually exclusive. Dr. Stephanie Zeller and Bobby Williams will dive into elements of comprehensive treatment in the modern era that combines both artistry and advanced technology with amazing patient success. Clinical cases will be presented to illustrate detailed workflows ranging from diagnosis, treatment planning and color communication to restoration fabrication and case completion.
Invisible Art: Integrating our Restorations with Nature and the Face
Featuring Sivan Finkel, DMD and Peter Pizzi, CDT, MDT
With the increasing amount of technologies at your disposal, don't lose sight of the main impetus for your work: the patient. It's not wonderfully advanced tools and materials that distinguish you. Rather, it's humanity and artistry that can set you apart. Dr. Sivan Finkel and Peter Pizzi will provide an overview of effective collaboration protocols that keep patients' needs at the center, because there is no true "one size fits all" solution and beauty is often in the eye of the beholder. Specifically, protocols will be presented for esthetic diagnosis, color communication and material considerations – all aiming to maximize predictability for the dental team and, ultimately, greater patient satisfaction and success.
Collaboration in Today's Digital Dentistry Era to Achieve Highly Esthetic Results
Featuring Julian Conejo, DDS, MSc and Sean Han, CDT
Communication between clinicians and technicians has always been crucial for achieving successful esthetic and functional outcomes. With the implementation of digital dentistry, alternative workflows and innovative materials can be implemented depending on the patients' unique needs. From single implant treatment to full-arch restorations, Dr. Julian Conejo and Sean Han will presented novel cases and integrated workflows that can differentiate your results while elevating the standard of patient care.
Natural Beauty: Lifelike Restorations that Replace Dentition and Soft Tissue
Featuring Wesam Salha, DDS, MSD and Victor Castro, CDT
Whether you treatment plan single crowns or full-mouth rehabilitations, your technique, materials and technology matter. Dr. Wesam Salha and Victor Castro will demonstrate unique protocols that combine technology, materials and artistry, enabling them to deliver cases with natural beauty and lifelike vitality. From selecting the right color of pink for soft-tissue reproduction to designing entire frameworks with esthetic tooth form and shades, learn a systematic approach for a diverse range of cases including on-six implant treatment.
Learn more about each presenter by clicking on their photos.
REGISTER BY JAN. 5, 2018 AND RECEIVE AN EARLY BIRD DISCOUNT
Early Bird Registration: $79, $119 after Jan. 5th


Join us for an evening of color and cocktails immediately following VITAVISION 2018.
February 23, 2018 • 6–10 PM • 450 N. Cityfront Plaza Drive, Gleacher Center #621 Chicago, IL 60611