See How VITAPAN EXCELL® Compares to the Leading Denture Brand!
Natural shape with shade accuracy and brilliant light dynamics!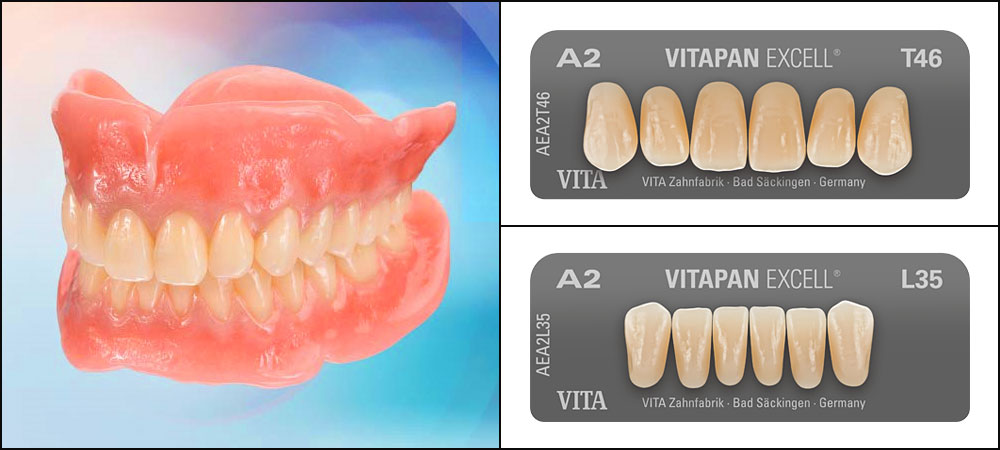 Lifelike, three-dimensional, translucent premium anterior teeth made of microfiller-reinforced polymer (MRP) composite for highly esthetic full, partial and implant-retained dentures
Simple fabrication of highly esthetic dentures due to lifelike tooth moulds with "golden" proportions
Brilliant play of shade and light thanks to excellent light dynamics and harmonious shade progression
Precise shade reproduction with remaining natural dentition due to excellent shade accuracy
Excellent durability thanks to high load capacity and abrasion stability
Efficient grinding and polishing due to optimum material homogeneity and edge stability
Plus, when set with VITAPAN® LINGOFORM posterior teeth, benefit from freedom of centric, which helps teeth self-occlude for faster, easier set-up. That helps lab technicians streamline resets and aids dentists in reducing adjustments and patient appointments.
Watch Webinar
Jim McGuire, CDT highlights the key features and benefits of VITAPAN EXCELL premium anterior denture teeth.
Try VITAPAN EXCELL and LINGOFORM for FREE!
View Tooth Moulds
[rl_gallery id="18078″]
Recommended Combinations
[rl_gallery id="18084″]
Product Specifications
11 x VITA SYSTEM 3D-MASTER® shades 0M3, 1M1, 1M2, 2L1.5, 2M1, 2M2, 2R1.5, 3L2.5, 3M2, 3R2.5, 4M2
15 x VITA classical A1–D4® shades A1–D4 (without B1)
17 x upper anterior tooth moulds (divided into four mould groups)
5 x lower anterior tooth moulds