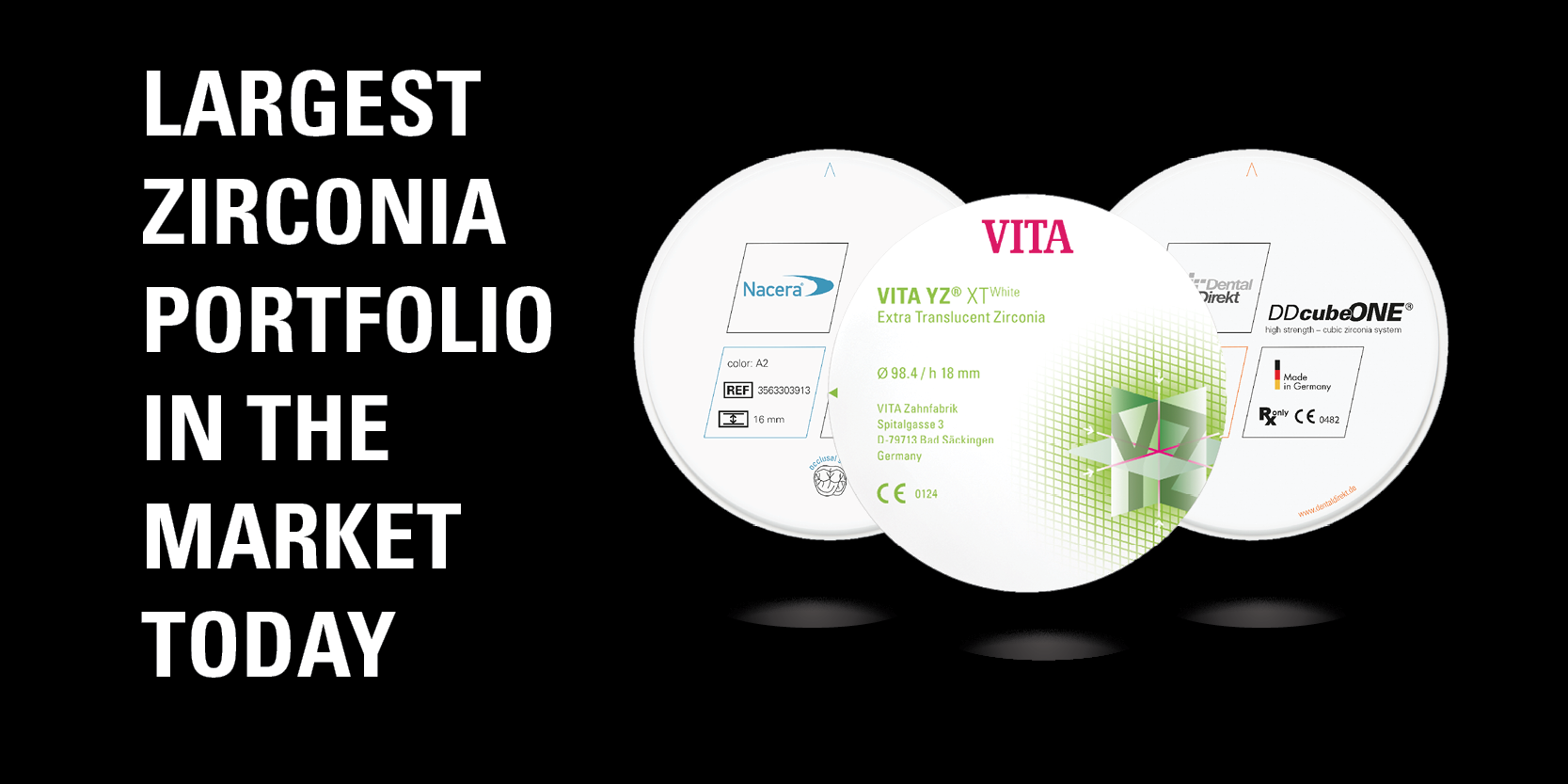 VITA North America is pleased to announce its exclusive distribution partnership with Dental Direkt, a leading supplier of quality dental products and the biggest zirconia manufacturer in Europe. This exciting collaboration between two of the dental industry's strongest brands extends VITA North America's product portfolio to offer the largest and broadest zirconia selections on the market.
With the exclusive partnership between VITA North America and Dental Direkt, customers now have greater access to the largest zirconia portfolio available, expedited turnaround times from a U.S. warehouse, exceptional customer service available in three languages and a local, technical support team comprised of trained dental technicians.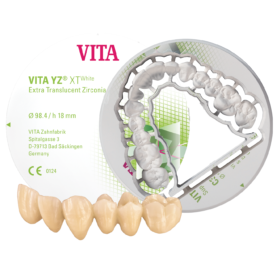 VITA YZ Solutions includes zirconia discs in four degrees of transparency, available in White, Color and Multicolor for the fabrication of precise and true-to-shade partially / fully veneered and monolithic restorations. VITA YZ discs are highly accurate due to edge stability, homogeneous microstructure and tested sintering properties.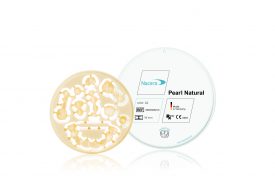 Dental Direkt offers eight zirconia offerings are available in a range of sizes in white, color, multicolor and multilayer, as well as all 16 VITA classical® A1-D4 shades and VITA Bleached Shades. The non-shaded zirconia is accompanied by the corresponding shade liquids for individual characterization. The newest addition to the Dental Direkt Zirconia line is the industry leading Nacera® Pearl, a multilayer, multicolor disc with different translucencies and colors in one zirconia disc. In addition to a large offering of zirconia, a complete product line of high-impact thermoplastic polymers will also be available.

VITAPAN EXCELL® Anterior Denture Teeth
Natural shape with shade accuracy and brilliant light dynamics!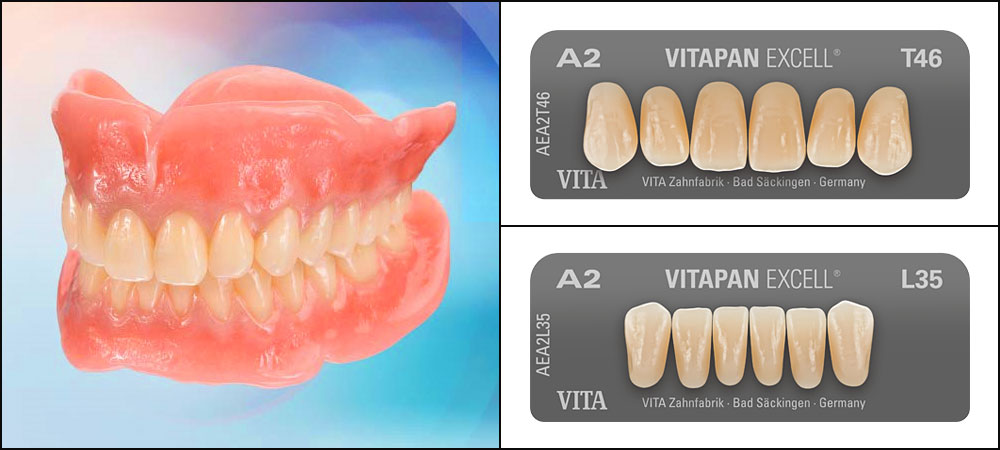 Lifelike, three-dimensional, translucent premium anterior teeth made of microfiller-reinforced polymer (MRP) composite for highly esthetic full, partial and implant-retained dentures
Simple fabrication of highly esthetic dentures due to lifelike tooth moulds with "golden" proportions
Brilliant play of shade and light thanks to excellent light dynamics and harmonious shade progression
Precise shade reproduction with remaining natural dentition due to excellent shade accuracy
Excellent durability thanks to high load capacity and abrasion stability
Efficient grinding and polishing due to optimum material homogeneity and edge stability
Plus, when set with VITAPAN® LINGOFORM posterior teeth, benefit from freedom of centric, which helps teeth self-occlude for faster, easier set-up. That helps lab technicians streamline resets and aids dentists in reducing adjustments and patient appointments.
Watch Webinar
Jim McGuire, CDT highlights the key features and benefits of VITAPAN EXCELL premium anterior denture teeth.
View Tooth Moulds
[rl_gallery id="18078″]
Recommended Combinations
[rl_gallery id="18084″]
Product Specifications
11 x VITA SYSTEM 3D-MASTER® shades 0M3, 1M1, 1M2, 2L1.5, 2M1, 2M2, 2R1.5, 3L2.5, 3M2, 3R2.5, 4M2
15 x VITA classical A1–D4® shades A1–D4 (without B1)
17 x upper anterior tooth moulds (divided into four mould groups)
5 x lower anterior tooth moulds
Try VITAPAN EXCELL and LINGOFORM for FREE!