Easily manage anterior cases and increase profitability with simplified processing and faster chairtime with VITABLOCS® TriLuxe forte. TriLuxe forte is the most bioesthetic, easy-to-use and efficient CAD/CAM material for the anterior including crowns, veneers and implant restorations.
Expand your treatment indications beyond traditional posterior crown processing with your CEREC system to include anterior cases while delivering long-term natural esthetics with perfect fit and translucency.
CASE STUDY: Incisal Translucency and Opalescent Effect on Centrals with VITABLOCS® TriLuxe – Dr. Mike Skramstad, Orono, MN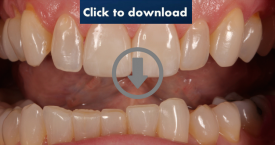 See for yourself!
Yes! I would like a personal consultation TriLuxe forte!