What?
VITA LUMEX AC is a leucite-reinforced, glass-ceramic veneering system with an innovative material formula for vivid and reliable results with shade accuracy.
What for?
For the veneering of all common full ceramic substructure materials (zirconia, LiSiO2-glass and feldspar ceramics) and for the production of reconstructions without a substructure (e. g., veneers).
With what?
VITA LUMEX AC includes: GINGIVA, OPAQUE, OPAQUE DENTINE, DENTINE and ENAMEL materials, as well as a multitude of effect materials (e. g., OPAL TRANSLUCENT, FLUO INTENSE and much more); ideally matched system components such as brushes, firing trays, glazing materials, etc.
The advantages
True to shade, mimics nature
Reliably reproduces tooth shades, as well as a natural play of shade and light, thanks to ceramic materials with very good shade fidelity and excellent light dynamics.
Efficient and precise
Process veneering ceramic efficiently and precisely, thanks to the ideal modeling properties, outstanding shape stability and universal applicability for all substructure ceramics.
Highly durable
Produce durable restorations, thanks to the high fracture resistance of the leucite-enhanced glass ceramic matrix and a reliable bond to the substructure.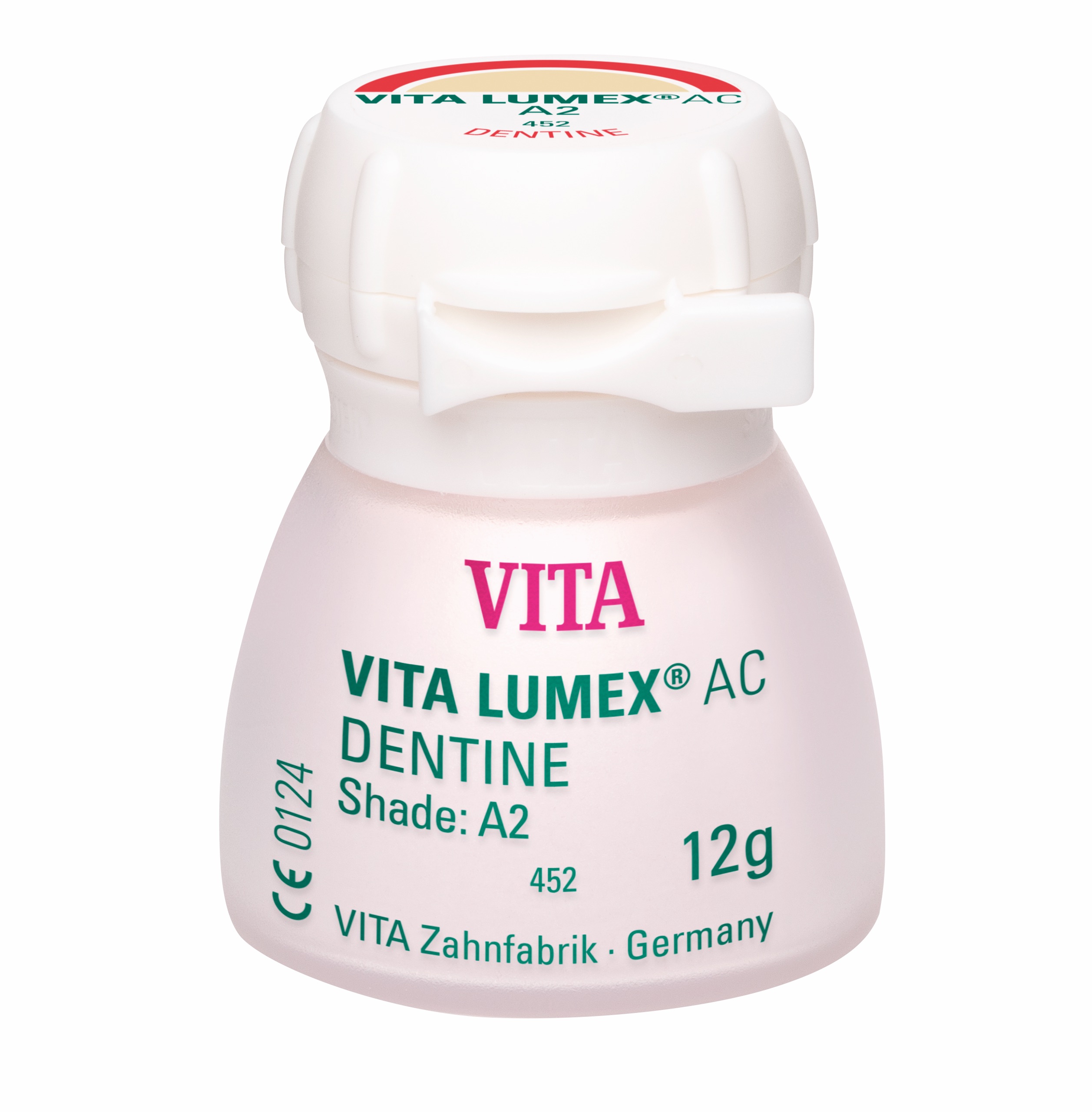 Facts and Features
VITA LUMEX AC is ideally adjusted to all common substructure ceramics, thanks to a coefficient of thermal expansion of the golden proportion: glass ceramic, feldspar and zirconia.
VITA LUMEX AC enables highly precise modeling, thanks to outstanding stability, and based on optimal interlocking of the ceramic particles through ideal particle size distribution.
VITA LUMEX AC offers the right ceramic for every desired degree of translucency, thanks to finely graduated ENAMEL materials – from whitish-opaque to crystal.