VITA VIONIC VIGO® HANDS-ON COURSES AVAILABLE!
Register with the dates below!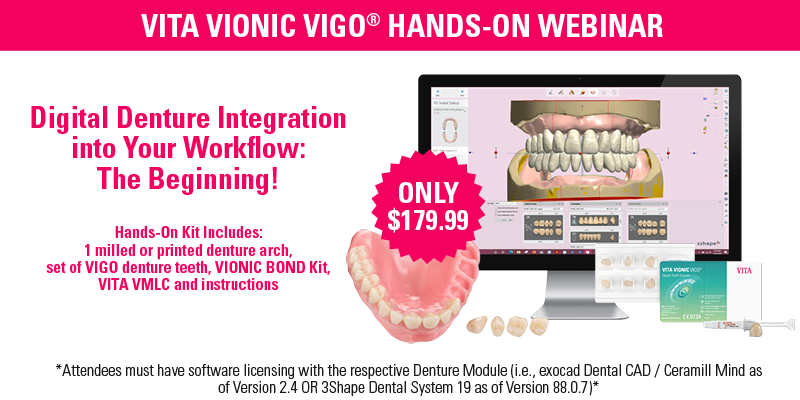 Digital Denture concepts are now a reality and available to integrate into your service menu if you are ready to offer a competitive removable solution. Regardless of your removables experience, the design software currently used, mill or print, wax or acrylic, provides customizable denture fabrication without the need of traditional tooling and in-depth knowledge. During this virtual hands-on program, you will work virtually along-side the instructor in the integration of this new technology using 3D software as the digital tool; model analysis, adaptable occlusal set-up options (600+ possibilities), denture contouring, and fabrication. Printed or milled, denture bases can be produced to precisely match unique denture tooth designs within a 20µm adhesive gap. Options of customizing premium denture teeth or use pre-fabricated, pre-machined digitally adapted denture teeth to reduce workflow time and save labor costs will be your road to success. You will review the workflow, step-by-step, and physically bond teeth to the denture base using a one-of-a-kind bonder and adhesive process that provides a streamlined workflow without the need for complicated and labor intensive processing methods. Fabricating digital dentures is now a very reliable process and is truly a beneficial service you need to consider and integrate now! 
Program Objectives
Digital denture transformation into a laboratory environment
Understanding that digital technology offers independence and not dependence
Incorporating removables experience and knowledge into a digital based workflow
Positioning denture teeth into a natural state of anatomical space
Enjoy a hands-on learning experience within your own business environment
*Participant fee includes hands-on kit; 1 milled or printed denture arch, set of VIGO denture teeth, VIONIC BOND Kit, VITA VMLC and preparation/instructions
**Each participant is required to prepare their denture base for BONDING prior to program
***Attendees must have software licensing with the respective Denture Module (i.e., exocad Dental CAD / Ceramill Mind as of  Version 2.4 OR 3Shape Dental System 19 as of Version 88.0.7)
UPCOMING COURSES
(Click below to register)
(deadline to register October 7, 2021)
Want to add a date for your office? Let us know by filling out the form here!
Learn More About VITA VIONIC VIGO®
Smart Tooth for Digital Dentures
What?
VITA VIONIC VIGO is a completely new generation of teeth made of SE polymer with a design perfected for the digital fabrication of dentures. This new generation can be fixed precisely and reliably in the denture base without any reworking, enabling an efficient completion.
What for?
For highly efficient digital fabrication of full dentures with all common open CAM and 3D printing systems.
With what?
The VITA VIONIC SOLUTIONS portfolio includes eight upper anterior tooth moulds, four lower anterior tooth moulds, four upper and lower posterior tooth moulds each, one bonding system and material blanks for wax try ins and plastic bases.
The advantages
Increase productivity
Economical fabrication without any manual/CAM reworking, thanks to a tooth design perfected for digital workflow
Completion in a time-saving manner
Time-saving finalization of the denture via adhesive bonding of the cervically sandblasted teeth in the base, without further auxiliary steps.
Natural appearance at the push of a button
Efficient reproduction of nature by means of prefabricated teeth with a vivid play of shape and color, as well as, directly accessible digital denture setups.
Process reliable fabrication
Reliable digital fabrication using a coordinated material system, including a unique bonding solution for precise fixation of teeth.