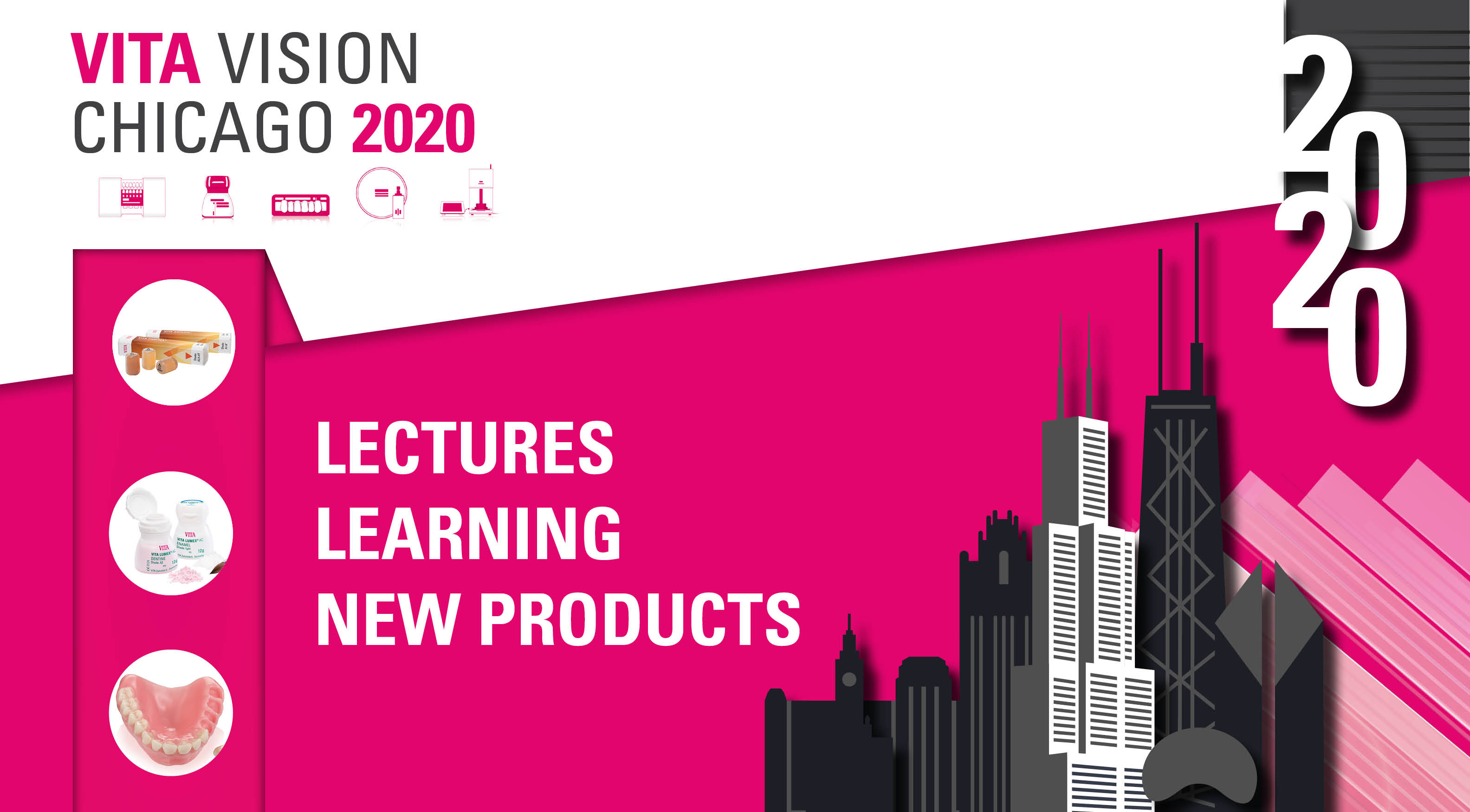 CHICAGO DENTAL SOCIETY 2020 MIDWINTER MEETING

WHEN
February 20-22, 2020
LOCATION
Booth 2231 | McCormick Place West | Level 3 | Hall F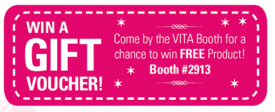 WHEN
February 20-22, 2020
LOCATION
Hyatt Regency Chicago
151 E. Upper Wacker Drive | Chicago, IL 60601
NEW! 
VITA AMBRIA
®
PRESS SOLUTIONS
Zirconia-reinforced lithium disilicate press ceramic

Available as pellets in two translucency levels (T, HT)

High reliability due to zirconia-reincofrced ceramic matrix (>500 MPa)

Natural translucence, opalescence and fluorescence to deliver brilliant esthetic
Leucite-reinforced, glass-ceramic veneering system for all common substructure materials
System includes: Gingiva, Opaque, Opaque Dentine, Dentine and Enamel materials
Universal applicability for efficient and precise veneering ceramic
Produce durable restorations with VITA LUMEX AC's high fracture resistance of leucite-enchanced glass ceramic matrix and reliable bond to substructure

WHEN
February 20-22, 2020 | 8am-4pm | 2 CE Credit Each
LOCATION
Hyatt Regency Chicago
Columbus Hall EF | Gold Level | East Tower
151 E. Upper Wacker Drive | Chicago, IL 60601
VITA Interactive Discovery Center: Featured Presenters
1:00pm-1:30pm
Changing Your Business Model and Comfort Level to Invest in the Future
Featuring: Greg Harris, President of Core3D

It is here, nothing you can do about it, digital technology is now ingrained in the services we must    provide and adapt to for personal growth. This program will address many personal and laboratory questions and uncertainties in understanding how digital technologies can be an investment and      work with traditional techniques, not limit daily profitability. Learn to understand that embracing    new concepts of denture fabrication using seamless tooth designs as well as machinable workflows can secure your dental career or long-term business plan with minimal daily disruption of your art and wallet.
1:30pm-2:15pm
Creating the Ideal Denture through Art and Technology
Featuring: Justin J. McElroy

From traditional to using the newest digital tooth library, fabricating dentures, removable or fixed, should confirm your learned removable workflow to provide for the patient needs. Reliable model analysis principles will guide you in fabricating a prosthesis to address fit, form, or functional. Learn about the newest principles of an "easy centric" set-up process using conventional waxing techniques or through the use of a newly developed digital form to provide flexibility in occlusal development. You will also be provided with the experience on how to transform a standard denture into a natural life-like replacement of gingiva and tooth form through base characterization and natural tooth arrangement.
2:15pm-3:45pm
CAD/CAM Materials Today: From Science to Patient
Featuring: Dr. Miguel Ortiz

There are tens of CAD/CAM materials in the market today and every manufacturer states that their material is the best. Can they all be the best? I don't think so. This is why Dr. Miguel A. Ortiz has dived into all the science published to date in order to answer this question. Which is the best material for each clinical presentation? What he found will surprise you. You only need to use four different CAD/CAM materials in order to cover all your needs. This is not because of his opinion but because the DentLit is loud and clear.

Science cannot be ignored and not all materials are made the same. It is time to truly understand each CAD/CAM material present in the market today in order to offer the patient the best treatment available. This presentation will demonstrate the scientific basis for material selection. You will finally be able to decide which 4 CAD/CAM materials are scientifically proven to be superior. You will know their indication for treatment as well as the parameters that make them the best. Science, not opinion.
3:45pm-5:15pm
The Evolution of Material Option in Today's Functional, Esthetic Paradigm
Featuring: Peter Pizzi, CDT, MDT

At this exciting time where materials are evolving and surpassing the esthetic and functional needs of our patients. An understanding of producing the perfect blend of artistry and technology for our individual patient is critical. The dental team's ability to determine material options, be it fully layered, micro layered or monolithic will be the difference in the vitality of our business. Peter will discuss the importance of case planning and choosing the correct materials to benefit the final outcome for today's esthetic demands. New material options and basic strategies will be the key importance of your future success.
VITA Interactive Discovery Center: Choose Your Own Adventure
Immerse yourself in the VITA Interactive Discovery Center, a unique hands-on exploration that puts you at the forefront of today's most advanced laboratory. Choose from up to six separate workflows ranging from digital design to material selection, porcelain build-up techniques and individualization. You'll literally touch, feel and experience new methods designed to help you achieve dramatic
gains in efficiency and esthetics.
Interactive Discovery: Porcelain Veneering: The Art of Micro-Layering All-Ceramic Restorations
Featuring Bobby Williams, CDT and Peter Pizzi, CDT, MDT
NEW VITA LUMEX AC: Optimize your services by offering various all-ceramic restorations: monolithic, fully and micro-layered restorations to provide a diverse customer base.
Interactive Discovery: Workflow and Challenges Behind Traditional to Digital Denture Fabrication and the Emergence of an Easy Centric Tooth Concept
Featuring Marc Wagenseil, DD and Justin J. McElroy
NEW VITA DIGITAL DENTURE TOOTH LINE: Learn the ways of traditional and digitally created base forms and how parallel the basics of proper fit, shape, form and occlusal relationship are similar to traditional techniques.
Friday, February 21
8:00am-9:30am | 9:45am-11:00am | 12:30pm-2:00pm | 2:30pm-4:00pm
Saturday, February 22
8:00am-9:30am | 10:00am-11:30am |12:30pm-2:00pm | 2:30pm-4:00pm
Friday, February 21
8:00am-9:30am | 10:00am-11:30am | 12:30pm-2:00pm | 2:30pm-4:00pm
Saturday, February 22
8:00am-9:30am | 10:00am-11:30am | 12:30pm-2:00pm | 2:30pm-4:00pm
Interactive Discovery: Pink and White Esthetics: A Foundation Beauty
Featuring Victor Castro, CDT
NEW VITA LUMEX AC & VITA AMBRIA: Learn to create life-like restorations and frameworks designed to replace both teeth and soft tissue. Working with pink-shaded porcelain and blending with esthetic tooth forms will be the focus of this workshop.
Interactive Discovery: CAD/CAM Digital Workflow for Your Lab
Featuring Daniel Müller, CDT, VITA Trainer, Bobby Williams, CDT and Peter Pizzi, CDT, MDT
This interactive workshop will provide you with insight of the latest released millable materials as well as give you the opportunity to apply porcelain and glass stain effects for you to create a natural looking tooth. You will also learn how the selection of material, based on the individual needs, influence the final outcome.
Friday, February 21
8:00am-9:30am | 10:00am-11:30am | 12:30pm-2:00 | 2:30pm-4:00pm
Saturday, February 22
8:00am-9:30am | 10:00am-11:30am | 12:30pm-2:00 | 2:30pm-4:00pm
Friday, February 21
8:00am-9:30am | 10:00am-11:30am | 12:30pm-2:00pm | 2:30pm-4:00pm
Saturday, February 22
8:00am-9:30am | 10:00am-11:30am | 12:30pm-2:00pm | 2:30pm-4:00pm