Small Brushstrokes,
Big Effects
VITA AKZENT LC is a light-curing stain and glaze system for extraoral characterization of all indirect restorations made from composite, polymer and hybrid ceramic.
With VITA AKZENT LC composite stains, you can reproduce all the shade nuances of natural teeth to give restorations their own distinct character, easily and effectively:
Use the brilliant effect shades to apply individual shade effects with pinpoint accuracy.
Use the chrome shades to easily create shade modifications at the stroke of a brush.
2022 IDT Game Changing Product of the Year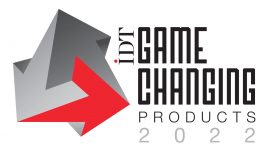 Each year, Inside Dental Technology has its editorial advisory board nominate and vote for products that have changed the way the industry practices dentistry. According to IDT, the winning products "demonstrate superior innovation and potential for bringing change to the industry." VITA is proud to announce that VITA AKZENT LC was included in that illustrious field. The peer-elected honor was announced in November 2022.
Now Available in USA and Canada!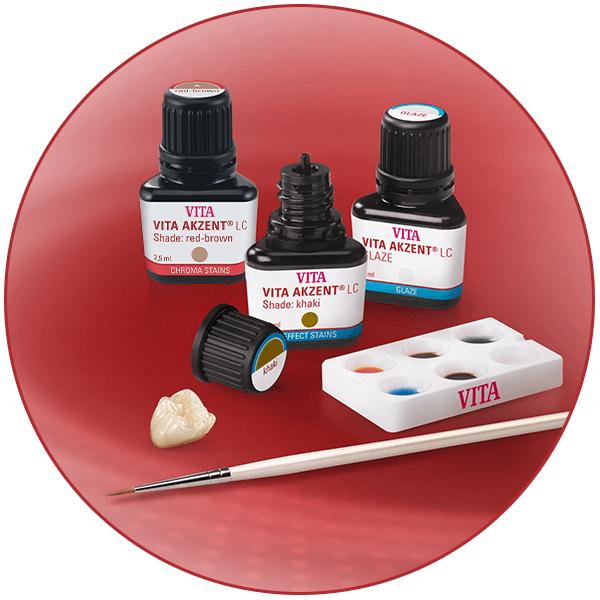 Data and facts
Offering a wide variety of fourteen multi-faceted VITA AKZENT LC EFFECT STAINS, individual characterisations can be recreated for beautiful aesthetic results.
If required, shade adjustments can also be made easily thanks to the VITA AKZENT LC CHROMA STAINS allowing a plannable, systematic control of the chromaticity of dental restorations.
In addition, the VITA AKZENT LC GLAZE not only offers a great final finish of the restoration, but also serves as a final surface sealing.
Example: Denture base
Thanks to new technological milestones, digital dentures are becoming increasingly common in laboratories. VITA AKZENT LC brings color to the digital workflow. The labial shield becomes a canvas of creativity and is given natural character.